Our Strategy and Approach
Our global sustainability program, Sail & Sustain, is centered around our commitment to drive a positive impact on society and the environment while delivering on our vision to be the vacation of choice for everyone around the world. We visit nearly 500 destinations globally, allowing our guests to travel and explore the world, and our business is inextricably linked to the preservation of our planet and the protection of our shared resources.
Our environmental, social and governance (ESG) strategy is focused on five pillars and was developed through cross-functional collaboration with key internal and external stakeholders. As we continue our ESG journey, we look forward to building upon this foundation and meaningfully contributing to the UN Sustainable Development Goals (SDGs) as we collectively chart a path towards a more sustainable future.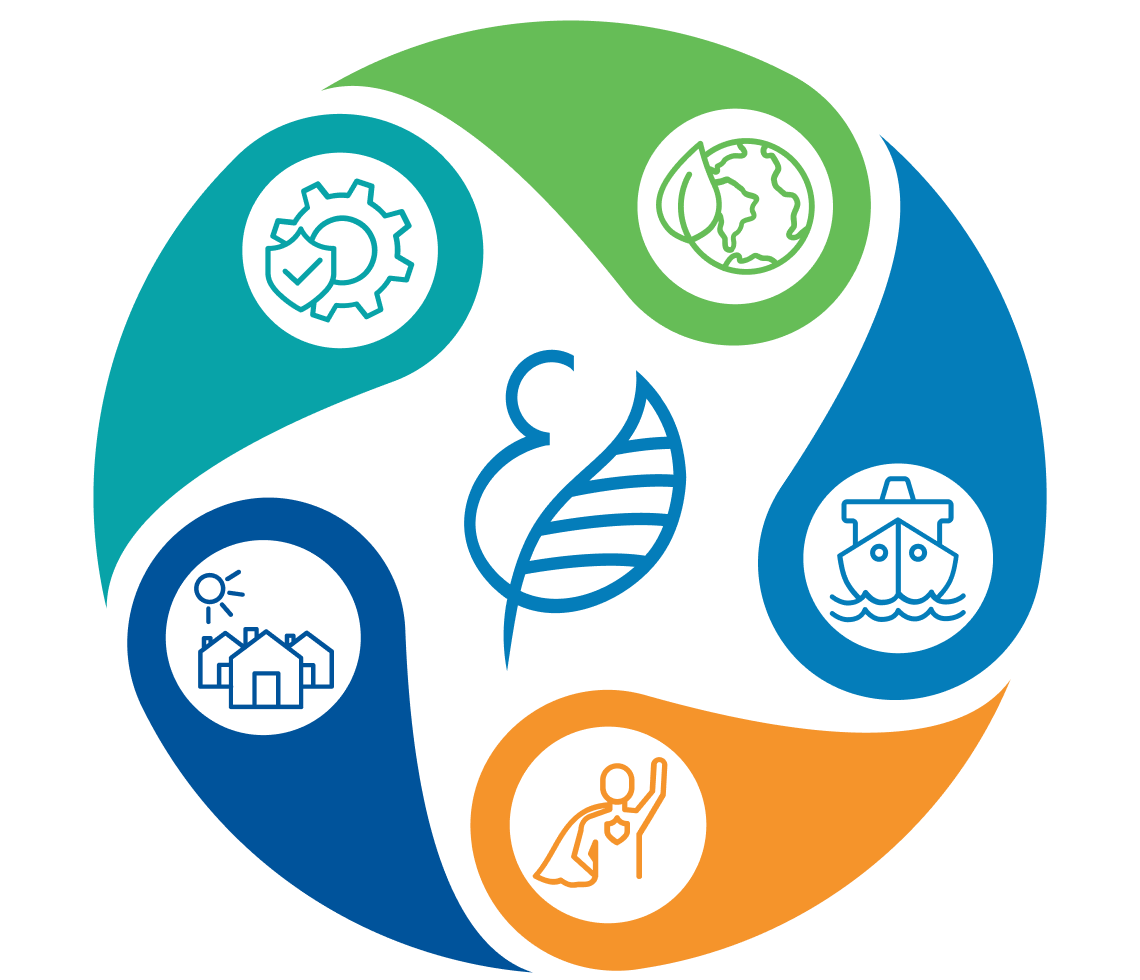 WE ASPIRE TO...
Reducing Environmental Impact
Combat climate change
Protect our oceans
Minimize waste to landfills
Conserve fresh water
Increase our sustainable sourcing
Reduce, reuse and recycle
Sailing Safely
Protect health and safety
Provide a clean and safe environment
Empowering People
Promote diversity, equity & inclusion
Recruit, retain and develop talent
Engage team members
Support employee well-beingr
Strengthening Our Communities
Support and invest in local communities
Provide disaster relief
Operating with Integrity and Accountability
Practice good governance
Get results the right ways
Respect human rights
Protect personal data and respect privacy
A Message from our President & CEO
To say that 2020 was challenging would be an incredible understatement, as it was without a doubt, the most difficult year in our Company's 50-plus-year history. In March 2020 we suspended operations bringing our entire 28-ship fleet to a halt literally overnight to help combat the global public health emergency brought on by the COVID-19 pandemic. Over a year later, our ships remain moored or anchored in ports around the world waiting to set sail again. Throughout this crisis I have been incredibly proud and grateful for the dedication and perseverance demonstrated by our team members around the globe who continue to adapt, innovate and flawlessly execute while faced with unprecedented personal and professional challenges.
Despite the pandemic's unprecedented headwinds, we have never wavered on our commitment to drive a positive impact on society and the environment through our global sustainability program, Sail & Sustain. This program is structured around five pillars: Reducing Environmental Impact, Sailing Safely, Empowering People, Strengthening our Communities and Operating with Integrity and Accountability. As part of our efforts to enhance our disclosure and transparency, this year we are pleased to present our first all-encompassing Environmental, Social and Governance (ESG) report, which highlights several initiatives that support our key ESG pillars.
While there were many important initiatives in 2020, one of our key highlights for the year was the co-formation of the Healthy Sail Panel (HSP), comprised of 11 globally recognized public health experts, who informed us on the development of a science-backed plan for a safe and healthy return to cruising. To protect our guests, crew and communities we visit, we enhanced our commitment to health and safety with our SailSAFETM health and safety program, which was developed with guidance from our team of expert advisors including the HSP. The robust and comprehensive SailSAFE program includes new and enhanced protocols, including mandatory vaccinations on all initial voyages*, to create multiple layers of protection against COVID-19.
We also strived to help our local communities and the destinations we visit as the impacts of the global crisis reached every corner of the world. We provided approximately $10 million of cash support to six Alaska port communities to benefit communities, small business and families who were impacted by the loss of tourism due to COVID-19. In addition, we also provided more than $2 million of in-kind humanitarian relief to support various community organizations worldwide throughout 2020 and 2021 including Feeding America food banks. In the spirit of giving back, beginning in 2021 we are also providing a Paid Volunteer Day to all U.S. shoreside team members to encourage community involvement.
Our team members continue to be our most important asset, and we remain committed to maintaining a safe, diverse and inclusive culture which supports and empowers all of our team members. We were incredibly pleased to be recognized for this commitment and named by Forbes to the list of America's Best Large Employers even as our Company operates in one of the hardest hit industries by the pandemic. To support our diversity, equity and inclusion (DE&I) efforts, we continue to partner with the Florida Diversity Council and in 2020 launched online DE&I training, including unconscious bias training. We also recognize the value and importance of a diverse supplier base and approximately 45% of our total U.S. supply chain spending in 2020 was with small businesses or businesses with minority, veteran or economically disadvantaged qualifications.
Offering our guests the opportunity to explore incredible destinations around the world is at the heart of what we do, and the preservation and protection of our planet is critical to our success. While the ultimate goal of our long-term climate action strategy is to reduce our absolute GHG emissions, we implemented a strategy to purchase carbon offsets to address current gaps in our decarbonization efforts until new technology becomes available. In June 2021, we committed to voluntarily offset at least 3 million metric tons of our emissions through 2023. We plan to increase our voluntary offset purchases in future years until we achieve full carbon neutrality, while simultaneously exploring additional ways to reduce our overall footprint.
As we look forward, we are committed to making a lasting impact on the world as responsible corporate citizens and ESG leaders. We are proud of our accomplishments to date and invite you to join us on our "Sail & Sustain" journey as we continue to build on this foundation for years to come.
Thank you for your continued support,
Frank J. Del Rio
President and Chief Executive Officer
Norwegian Cruise Line Holdings, Ltd.
*Limited exceptions may be made pursuant to valid medical or religious exemptions.
Materiality Assessment and Matrix
In 2021, we worked with a third-party sustainability consultant to conduct a comprehensive materiality assessment to ensure we were aligning our ESG program with the most material topics for our key stakeholders. Through interviews and a survey, we engaged internal and external stakeholders to help prioritize 14 of our most material environmental, social, and governance topics. Once the ESG topics were prioritized, we conducted a workshop with our Sail & Sustain Executive Leadership Council to discuss and validate the findings. We will use these findings to inform our ESG strategy and reporting going forward.
Increasing importance to Company
Increasing importance to Skateholders
Reassess Current Programs
Strategic Material Priorities
Waste and Wastewater Management
Strategic Material Priorities
Air Quality & Emissions
GHG & Climate Risk
Habitat Conservation & Ocean Stewardship
Monitor & Maintain
Community Engagement & Economic Development
Labor Management
Ongoing Priorities
Corporate Governance & Ethics
Fuel & Energy Efficiency
Strategic Material Priorities
Human Capital Including Diversity, Equity & Inclusion
Monitor & Maintain
Responsible Marketing & Communications
Water Consumption & Preservation
Ongoing Priorities
Data Security & Privacy
Responsible Supply Chain