Our Strategy and Approach
Our global sustainability program, Sail & Sustain, is centered around our commitment to drive a positive impact on society and the environment while delivering on our vision to be the vacation of choice for everyone around the world. We visit nearly 500 destinations globally, allowing our guests to travel and explore the world, and our business is inextricably linked to the preservation of our planet and the protection of our shared resources.
Our environmental, social and governance (ESG) strategy is focused on five pillars and was developed through cross-functional collaboration with key internal and external stakeholders. As we continue our ESG journey, we look forward to building upon this foundation and meaningfully contributing to the UN Sustainable Development Goals (SDGs) as we collectively chart a path towards a more sustainable future.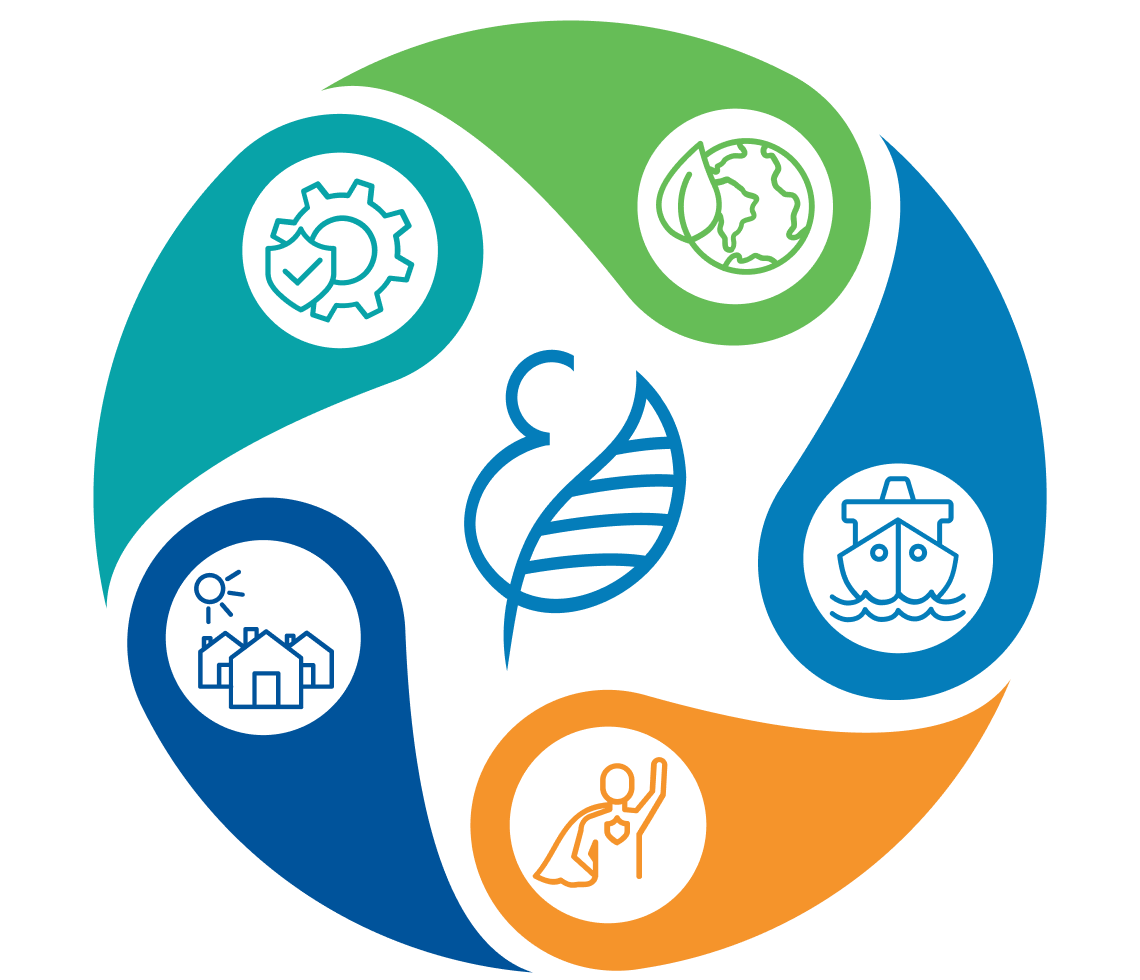 WE ASPIRE TO...
Reducing Environmental Impact
Combat climate change
Protect our oceans
Minimize waste to landfills
Conserve fresh water
Increase our sustainable sourcing
Reduce, reuse and recycle
Sailing Safely
Protect health and safety
Provide a clean and safe environment
Empowering People
Promote diversity, equity & inclusion
Recruit, retain and develop talent
Engage team members
Support employee well-beingr
Strengthening Our Communities
Support and invest in local communities
Provide disaster relief
Operating with Integrity and Accountability
Practice good governance
Get results the right ways
Respect human rights
Protect personal data and respect privacy
A Message from our President & CEO
2021 was another year filled with unexpected events and challenges brought on by the continuation of the COVID-19 pandemic. We entered the year with zero vessels operating, with our entire team focused on how to resume operations while prioritizing the health, safety and well-being of our guests, team members and communities we visit above all else. In July 2021 we launched our "Great Cruise Comeback" and just last month we reached a significant milestone in our phased re-launch with the final ship in our 28-ship fleet returning to service in May 2022. The herculean effort to restart our cruise operations was successful because of the hard work and dedication of our exceptional team who consistently demonstrated extraordinary resilience, skill and passion.
While we are focused on our operational and financial recovery from the pandemic, we are also more focused now than ever on driving a positive impact on society and the environment through our global sustainability program, Sail & Sustain. Our second annual Environmental, Social and Governance (ESG) report highlights several initiatives that support the key pillars of our Sail & Sustain program.
Recently we announced our commitment to pursue net zero greenhouse gas emissions by 2050, which will truly be one of the most defining voyages our Company will ever embark on. Our net zero ambition spans not only our operations but also our entire value chain as we aim to bring key partners, including our vast network of nearly 20,000 global suppliers and approximately 35,000 team members, along with us on this transformational journey. To support our path to net zero, we have also committed to develop short- and near-term greenhouse gas reduction targets. Getting to net zero will be complex, requiring significant innovation and collaboration with partners such as shipyards, engine manufacturers and classification societies to accelerate the technological advancement needed to get us to this goal, but we are committed to doing our part in this shared global effort. Our Compensation Committee further doubled down on this commitment by including an ESG metric tied to our progress on setting greenhouse gas reduction targets as part of our 2022 short-term management incentive compensation plan.
We believe it is our responsibility to contribute to the communities around the world where we live, work, visit and serve. In 2021, we provided over $12 million of cash and in-kind donations to communities and organizations around the world. We also began offering a Paid Volunteer Day to all U.S. shoreside team members to further encourage involvement in their local communities. When the devasting events began to unfold in Ukraine earlier this year, we quickly mobilized to support and assist our impacted team members. We have activated our crew relief fund and are providing logistical, communication and mental health support to affected team members. In addition, we pledged $100,000 to Save the Children's Ukraine Crisis Relief Fund and invited partners including guests, travel partners and team members to contribute as well.
Our top-notch team is our most valuable asset, and we remain committed to maintaining a safe, diverse and inclusive culture which supports and empowers our ~35,000 team members globally. We were honored to be recognized for this commitment with our naming to the Forbes World's Best Employers 2021 list. To support our diversity, equity and inclusion (DE&I) efforts, I am pleased to report that I signed the CEO Action Pledge for Diversity and Inclusion in March, further cementing our commitment to fostering an inclusive workforce, where diverse backgrounds are represented, engaged and empowered to generate and execute on innovative ideas. We also recognize the value of a diverse supplier base and nearly 40% of our total U.S. supply chain spending in 2021 was with small businesses or businesses with minority, veteran or economically disadvantaged qualifications.
As we look forward to the future, we are committed to being responsible corporate citizens and ESG leaders which we believe go hand-in-hand with delivering long-term value for all of our stakeholders. We are proud of our accomplishments to date and invite you to join us as we continue our "Sail & Sustain" journey.
Thank you for your continued support,
Frank J. Del Rio
President and Chief Executive Officer
Norwegian Cruise Line Holdings, Ltd.
Materiality Assessment and Matrix
In 2021, we worked with a third-party sustainability consultant to conduct a comprehensive materiality assessment to ensure we were aligning our ESG program with the most material topics for our key stakeholders. Through interviews and a survey, we engaged internal and external stakeholders to help prioritize 14 of our most material environmental, social, and governance topics. Once the ESG topics were prioritized, we conducted a workshop with our Sail & Sustain Executive Leadership Council to discuss and validate the findings. We have and will continue to use these findings to inform our ESG strategy and reporting going forward.
Increasing importance to Company
Increasing importance to Skateholders
Reassess Current Programs
Strategic Material Priorities
Waste and Wastewater Management
Strategic Material Priorities
Air Quality & Emissions
GHG & Climate Risk
Habitat Conservation & Ocean Stewardship
Monitor & Maintain
Community Engagement & Economic Development
Labor Management
Ongoing Priorities
Corporate Governance & Ethics
Fuel & Energy Efficiency
Strategic Material Priorities
Human Capital Including Diversity, Equity & Inclusion
Monitor & Maintain
Responsible Marketing & Communications
Water Consumption & Preservation
Ongoing Priorities
Data Security & Privacy
Responsible Supply Chain